It is common for Twitch streamers to have cameras and it doesn't hurt subscribers that these photogenic ladies are good looking.
Not all Twitch streamers are created qual: some are also insanely hot. Twitch, the live streaming platform that initially started as a spin-off game streaming service, is all the rage these days and is arguably the bread and butter of professional gamers. The platform is owned by Amazon.com and it has enjoyed a quickly increasing amount of Internet traffic, even surpassing Facebook, Hulu and the likes according to the Wall Street Journal. The once niche platform has since broadened its horizons and apart from gaming, users now have the ability to live stream activities such as painting, music, cooking and basically anything that can be classified as creative.


Even though Twitch has diversified, the gaming community is still by far the biggest though and what would probably surprise many people is that there are actually many female professional gamers on the site. Even more surprising is that many of them are quite attractive, up to the point where they could probably easily be mistaken for models and some of them are in fact just that but more on that later. Yes, the gaming community has changed a lot in recent times and, far from being a group of stereotypical nerds, it now includes people from all walks of life. You can imagine that these hot gamer-girls do quite well on Twitch, which allows tipping, donations and paid subscriptions. Since it is common practice for streamers to have cameras on themselves, it doesn't hurt they are quite good looking and you could even argue that they are just using their looks to get easy money. Whether you despise Twitch girls for this or on the other hand if you welcome the variation they bring to an otherwise dull community, let us look at 15 of the hottest Twitch streamers.

15
Pink_Sparkles
via twitter.com
Pink_Sparkles is a 20 something Twitch streamer from South California. She mostly plays League of Legends and also streams 'In Real Life" moments. Her favourite League of Legend champion is Miss Fortune, but she also plays other Champions like Morgana, Vi or Sona from time to time. Her real name is Izzy and she attracts a lot of attention due to her curvy body and iconic, glasses but she also attracts a lot of critique due to controversial, potentially dishonest activities and behaviour. Although she is an official Twitch partner, she borderlines on breaking Twitch rules frequently and has been banned several times for violation of the terms of use. Love her or hate her, Pink_Sparkles seems to bring in a lot of views TO Twitch, so they probably won't complain too much.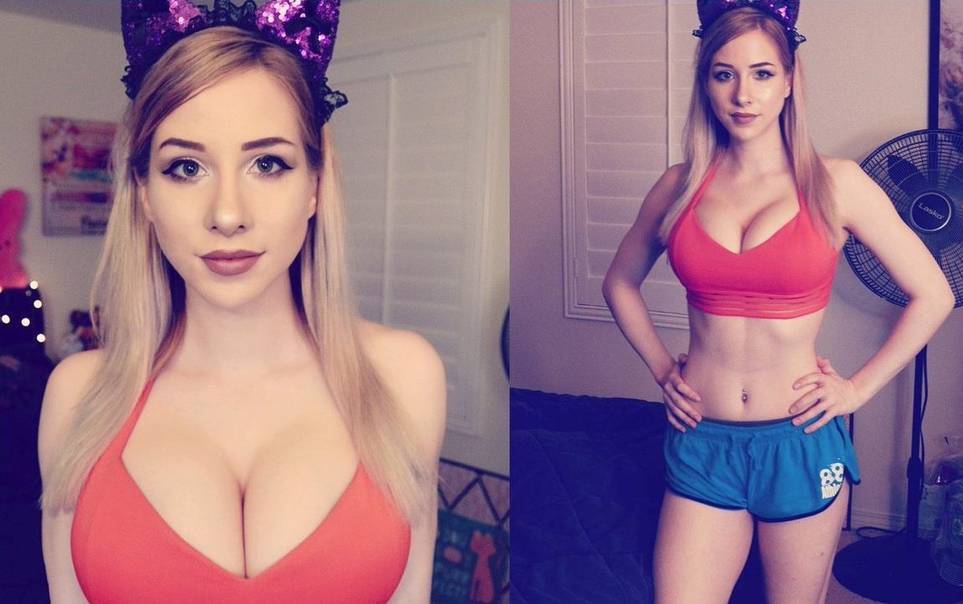 14
DeerNadia
via:instagram.com
DeerNadia is a 20 year old Arizonan with half Italian and half Venezuelan ethnicity, and that is probably where she got her good looks from. She evidently likes dogs and has a pet Boston Terrier called Sassy that features on her Twitch streams. When she was growing up, her parents called her 'deer eyes' because she apparently had the 'caught in the headlights' look to her and that's where her nickname is inspired from. She says that when she was younger, her brother used to play the games he was good at, like Mortal Kombat, against her and, even though she lost, she kept playing and started liking it more and more. We reckon Mortal Kombat is quite an intense start to a gaming career but hey it seems it worked out since now she is a successful gamer. She likes playing and streaming Hearthstone: Heroes of Warcraft, League of Legends and H1Z1: King of the Kill.
13
STPeach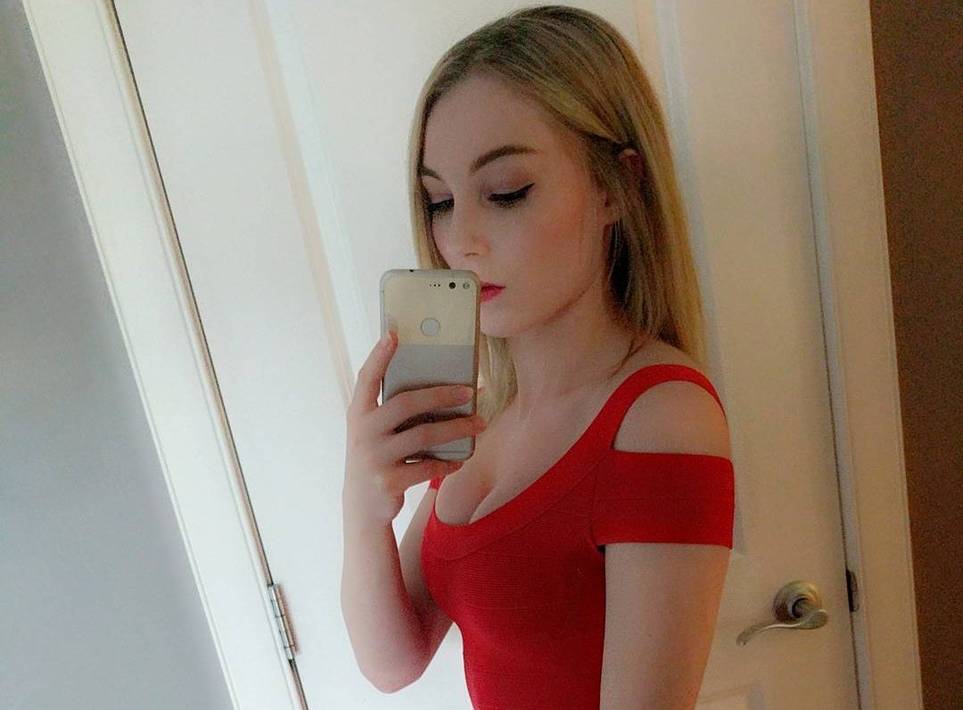 via:instagram.com
While DeerNadia is a dog-person, it seems STPeach is more of a cat-person, owning two of them named Alfred and Leo respectively. Don't let the cats fool you though, STPeach means business when it comes to gaming and it shows in her PC specs with an Intel i7 processor, Corsair Air 240 case, NVIDIA GeForce GTX 970 GPU and 16Gb of Kingston HyperX Fury RAM. For gaming on the go, she uses an ASUS ROG G771 gaming laptop, which is not too shabby at all. She is Canadian, 23 years old and likes to keep fit which explains why she is in such good shape. Oh and did we mention she has blonde hair? You will be surprised to hear that her current favourite game is the ultra-competitive Counter Strike: Global Offensive, although she also enjoys to stream many different games.
12
TaraBabcock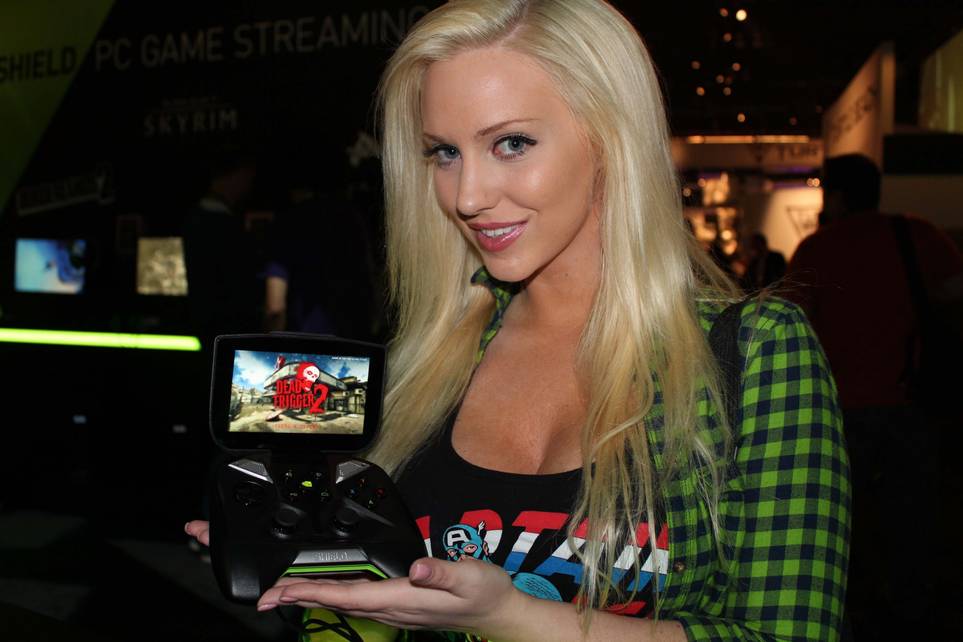 via youtube.com
TaraBabcock is a 27 year old blond bombshell from Seattle who has been streaming on Twitch for around five years. While she has also been a professional glamour model, she now uses her looks and skills in the gaming industry. Don't be fooled by her blond hair though, as she is a self-proclaimed 'master of marketing' and that is apparent in her success in various industries, including gaming. According to her, she has been gaming all her life and her first console was an Atari. Her favourite game is Super Mario Bros. 3 but she says she also likes many others games like Starcraft, God of War, Metal Gear Solid and Mortal Kombat. She currently streams League of Legends and indie games on Twitch around three days per week.

11
Lilchiipmunk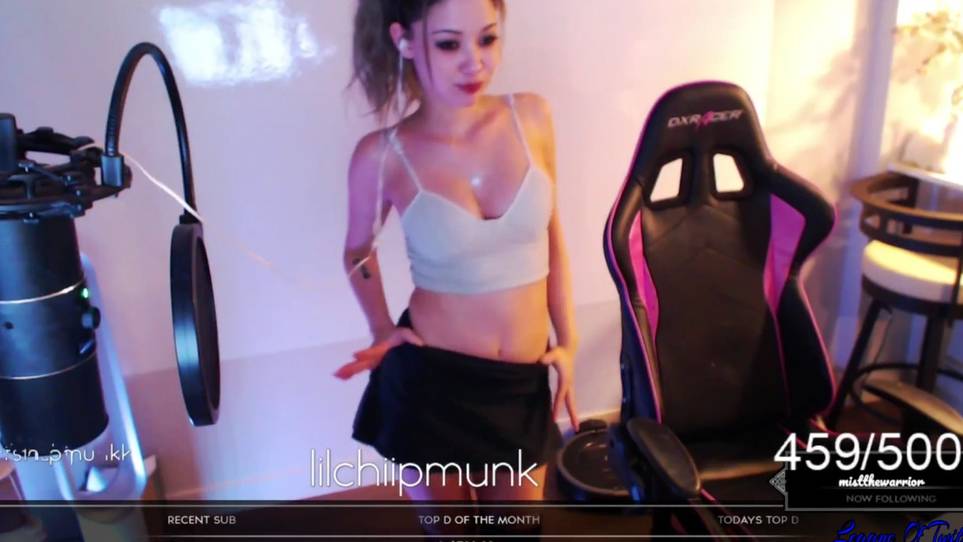 via youtube.com
Lilchiipmunk doesn't look like your average gamer and she explains it by saying that she is an undercover nerd. Her name is Caroline and she is half Romanian and half Vietnamese, so we can see where she gets her looks from. On top of that, she was raised in Canada and apart from English, she also speaks Hebrew fluently. Wow, that sounds like an interesting background. Unlike many, she doesn't play a variety of games, but rather focusses on a few that she really likes and sticks with them. She currently mostly plays and streams League of Legends, which she was introduced to by her ex-boyfriend. From her stream, it also seems that she plays Diablo III and Counter Strike: Global Offensive from time to time.
10
Schyax
via:instagram.com
Like many of the other gamers featured here, Schyax also mainly plays League of Legends and she is a full-time streamer, gamer and Twitch partner. She is a red-haired Portuguese girl from Lisbon. Although she mostly plays League of Legends, she can occasionally be seen streaming a few other games like Outlast 2, Firewatch and The Witcher 3 and her channel features a lot of giveaways and 'In Real Life moments'. Similar to her fiery looks, her custom built gaming computer packs some serious punch too, with an Intel i7 6850k CPU and Asus GeForce GTX 1080 GPU amongst other things contained in a Corsair 460x RGB case.


9
Djarii
via youtube.com
Born in England, Djarii currently lives in Scotland and is a 22 year old gamer, said to have been raised playing games on consoles like the Game Boy and PlayStation. Lately, however, she plays mainly PC games, with her favourites being World of Warcraft, StarCraft II, Heroes of the Storm and role playing games like The Elder Scrolls and The Witcher. Djarii would like to think that her humorous personality is what makes her so popular on Twitch and YouTube, but her looks may play a bigger role than she would like to know. Be that as it may, she also has other talents like being a make-up artist and it doesn't hurt that she studied Art and Design. She can be seen streaming on Twitch on almost a daily basis.
8
Emiru
via twitter.com
Emiru is a 19 year old gamer-girl from Austin, Texas who also has an interesting Ethnicity, being half Chinese and half German. That's interesting, as even though we are not statisticians, there definitely seems to be a correlation between Ethnic-variety and hotness on this list or is it just a coincidence? She seems to have gotten the best features from her Chinese and German genepool, while she says that her long hair is all natural. Looks aside, regrettably she can't speak either of the foreign languages, so good ol' English will have to do. However, if you do want to talk keep in mind she has a boyfriend. She mainly streams League of Legends and she says that she plans to attend college soon.
7
ClaraBabyLegs

via imgur.com
ClaraBabyLegs is a controversial gamer and streamer known for her explicit videos and provocative behaviour. Due to the nature of her videos, she has been frequently banned from both Twitch and YouTube. Her Twitch account is still up, but we are unsure if she is currently streaming. The rules, regulations and bans apparently frustrated her so much that it motivated her to stream on camgirl sites. Her boyfriend, or ex-boyfriend since we don't know what the current situation is, is another well-known gamer going by the name of Bashur. Bashur is mainly known for creating videos for Bashurverse a YouTube channel featuring scripted Minecraft episodes. Aside from the controversy and drama, when ClaraBabyLegs is actually playing games, she plays a variety of games like Overwatch, Battefield, Resident Evil and Call of Duty.

6
DizzyKitten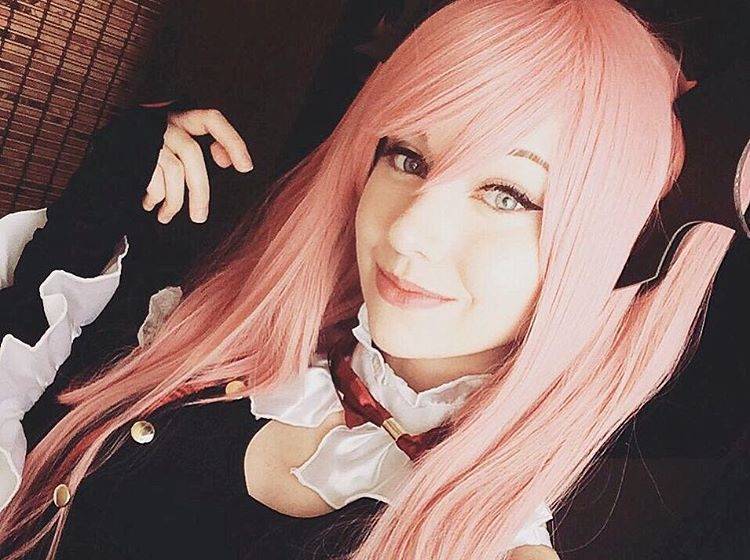 via:instagram.com
Known as Dizzy, DizzyKitten is a gamer and cosplayer who hails from Arkansas and apparently likes cats. She is 24 years old and has a Scottish, Irish and Native American background. She likes playing Overwatch, but is known to stream a huge variety of games such as Counter Strike: Global Offensive, Firewatch, World of Warcraft, Diablo III, and Hearthstone. Her favourite Overwatch characters are Zenyatta and Soldier: 76 though. As mentioned before, she enjoys cosplaying, which is where her good looks really come in handy for her. She has started streaming in 2013 and since then streams quite often on most days of the week.
5
CinCinBear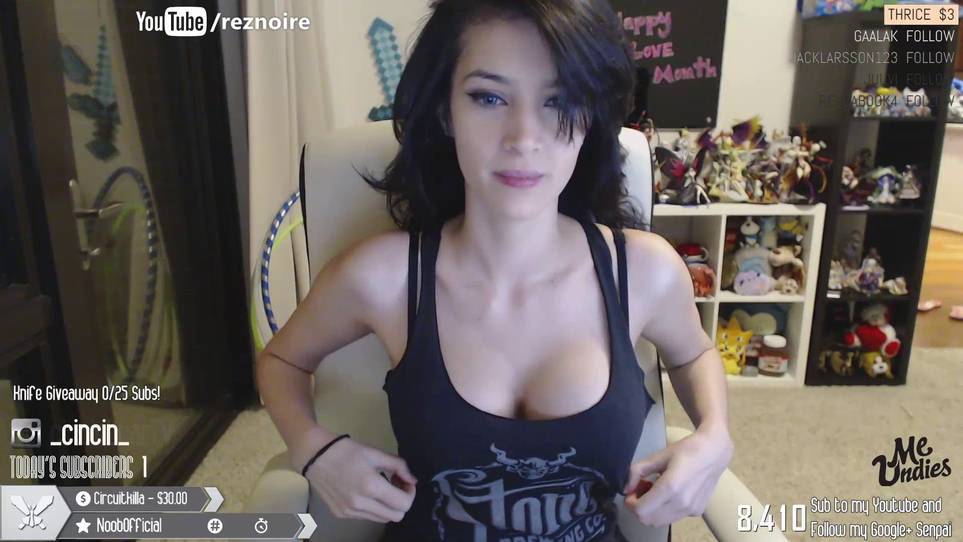 via youtube.com
With a dynamic Twitch page and her own store, CinCinBear seems to be doing quite well and she has over 8 million views on Twitch. With looks to kill, we can see why she is so popular amongst her followers. In terms of games, she has recently played mostly Overwatch, but she also plays games like Counter-Strike: Global Offensive, World of Warcraft and Minecraft. She likes consoles too, but if you really want to make CinCinBear happy, give her an anime figure, since she has a weak spot for them. She is an avid cosplayer and she sells posters of her cosplay shoots on her personal store. She says that she loves streaming games and will do it for as long as she can.
4
Mhova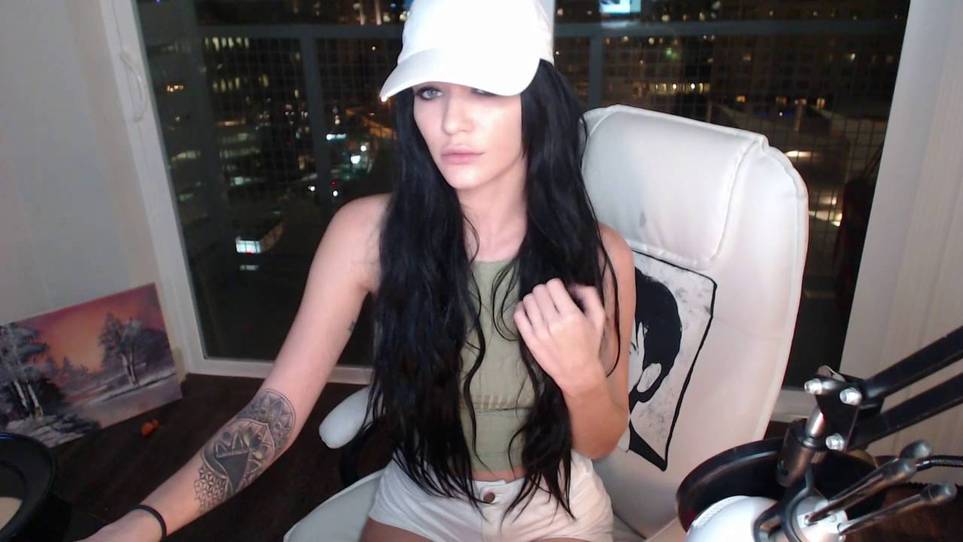 via youtube.com
Mhova is a freelance model from Dallas who has also started streaming in her spare time. The appealing 26 year old plays Hearthstone, World of Warcraft, Overwatch, Destiny and sometimes Fallout 4 and H1Z1, but the main game she plays is Grand Theft Auto on Xbox One. She also belongs to a crew that focuses on bigger missions. When she is not streaming, she does modelling, yoga and likes to play with her brown cat named Brain. She says that apart from that, she doesn't do much else that is interesting. She has been one of the Streamers that has been Swatted and, if you don't now what that means, it is when someone hoaxes the police into sending a SWAT team to your house. Real cool. Game streamers have become popular targets for swatting since usually the whole ordeal is captured live on their stream for the perpetrator to see.
3
Morberplz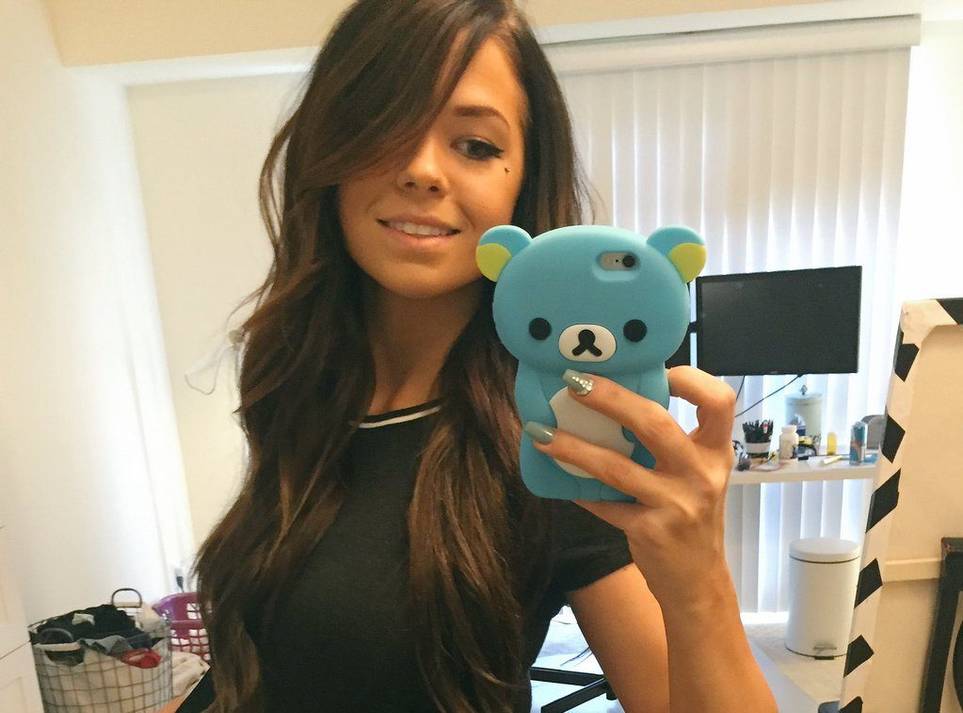 via twitter.com
Morberplz's Twitch page doesn't have a lot of information about her, but we guess you don't need boring information when you have stunning looks. Her nickname seems to be a combination of the words 'More Beer Please' or did we get that one wrong? She has recently streamed a lot of 'In Real Life' videos, but when she does stream games, they come in a variety. Among the games she streams are Hearthstone, Firewatch, World Of Warcraft, Truckin and also a variety of Indie games. She likes playing horror games too like The Walking Dead, Through the Woods, Layers of Fear and Limbo. We are not sure if she is a frequenter, but it does seem as though she likes a good cosplay every once in a while too.
2
KayPeaLol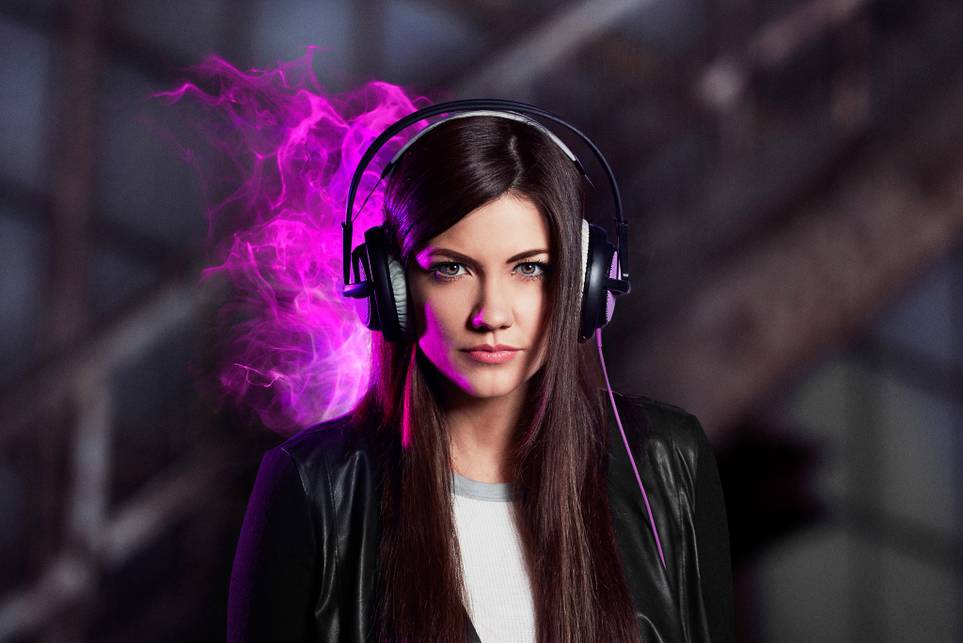 via esportsedition.com
Yet another League of Legends streamer, it seems as though KayPeaLol focuses solely on playing League of Legends, even though she does state that she also plays Counter Strike: Global Offensive, yet it must be seldom since it doesn't show up on her channel. KayPeaLol's real name is Kelsie and she's a friendly brunette who is easy on the eyes. She is 27 years old, from Canada and has two cats, Ronin and Luna, which can be seen in her streams from time to time. It seems her main strategy in League of Legends is to play around mid and launch ambush attacks when the opportunity arises. Her favourite characters are Lux, Brand and Ahri. She not only streams on Twitch, but has an active YouTube channel with high quality content.
1
ChloeLock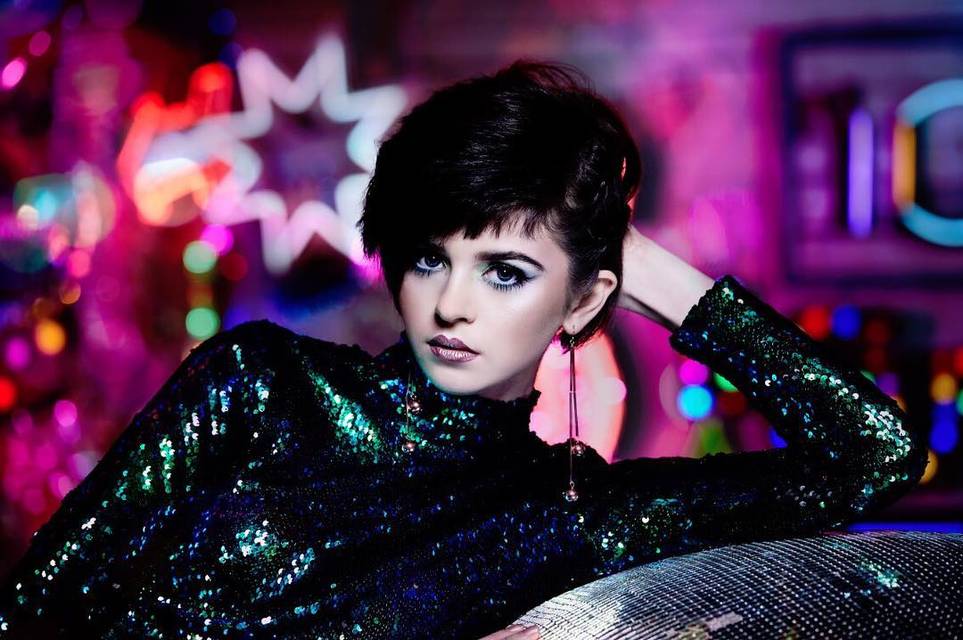 via:instagram.com
ChloeLock has the look of a professional model rather than that of a professional gamer and, rightfully so, since she is one of the finalists of Britain's Next Top Model. She is 20 years old, a phycology student and, on top of her modelling career, still makes time to play and stream games. Apparently she was teased for being a bit of a geek as a teenager, although the word 'geek' definitely doesn't come to mind when looking at her. These days ChloeLock streams a variety of games including Outlast, Counter Strike: Global Offensive, H1Z1 and also various 'In Real Life' videos. ChloeLock is a perfect example of how the stereotype of nerdy gamers can be so wrong. Keep doing you, Chloe!